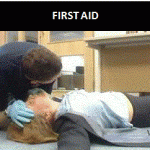 We are all prone to accidents now and again and we all get hurt.
When we are injured or suddenly unwell, what we want and need is someone to help us - someone who knows what to do. First aid is all about helping people in situations like this
This course is designed for workplaces that fall into a low risk category.
Who is it for? This course is suitable for people aged 16+ who work in high hazard environment